Before entering the restaurant, you are struck by the well-dressed and festive looking entrance on The Hayes.
It is extremely inviting and offers something of a safe haven from the frightful winter weather. As the door swings open, you are greeted by friendly staff who are ready and waiting to take and store your coats.
We arrived 15 minutes early and despite our table being ready, we opted to sit at the bar, choosing one of the gorgeously presented cocktails to soak up the atmosphere. The cocktails are modestly priced and on par with nearby venues. The bartender was extremely knowledgeable, giving us a recommendation of the Mermaid's Dream (£9.75). The attention to detail given to selecting the ingredients and creating the spectacular cocktail was duly noted.
The restaurant was humming with diners and with the carefully chosen background music playing, it was the perfect blend. It was busy, but not noticeably busy in a way that would impair the service.
If you've not been to an Ivy restaurant before, you may not know about their beautifully decorated restaurants. Diners can relax in comfortable leather banquettes and enjoy the interiors, including striking artwork, curated and inspired by local Welsh landscapes and fauna as well as Cardiff's heritage and history – adding a unique local twist.
The restaurant has taken over the former Jamie's Italian which shut it doors when the chain went into administration, and it first welcomed customers on Monday, November 18.
It's already become one of the most sought after spots in the city, with many struggling to book a table in the weeks running up to Christmas.
The restaurant is massive and you're greeted by an impressively stocked bar complete with a giant Welsh dragon on top. Despite the size, it still managed to feel cosy and intimate on the night we visited – the day after opening – when there were only a handful of other diners still there during our 9pm sitting (we couldn't get anything earlier).
The place is full of colour with vibrant patterns everywhere and huge plants on pretty much every surface but the tables.
You'll be grateful for the comfortable surroundings as the menus are not a quick read. There's a well stocked wine menu and no shortage of choices to pick from on the a la carte menu.
For the starters there's everything from your classic prawn cocktail and steak tartare to tuna carpaccio and a jackfruit salad. Main courses include shepherds pie, duck curry, lobster linguine and even fish and chips.
There are plenty of options for veggies and vegans too, with a separate menu listing dozens of suitable choices.
There were two of us and we ordered the truffle arancini (£5.95) and truffled wild mushrooms – potato rosti, creamed mushroom, fried quail's egg and grated truffle – (£7.95) for starters.
The mains that grabbed our attention were the salmon and smoked haddock fish cake (£13.95) and the Ivy hamburger (£14.50).
As well as the main restaurant and central bar situated on the ground floor, The Ivy Cardiff features a stunning first floor bar complete with striking and colourful interiors.
The Ivy offers an array of dining options. You can choose from the ala carte, set menu or from the vegetarian & vegan options. There is also a separate wine and drinks menu, which our server helped us match to our chosen dishes.
We opted for the very reasonably priced set menu. You can choose between two courses (£16.95) and three courses (£21), which is available Monday – Thursday until 6.30pm. When speaking with family and friends who are yet to experience The Ivy, I think there is a misconception that fine dining costs the world – well it doesn't.
Starters
To start, we opted for the Bang Bang Chicken and Roast Pumpkin Soup. Both dishes were tastefully presented and were absolutely delicious, as you might expect. We cheekily swapped halfway through to see what the other tastes like.
Main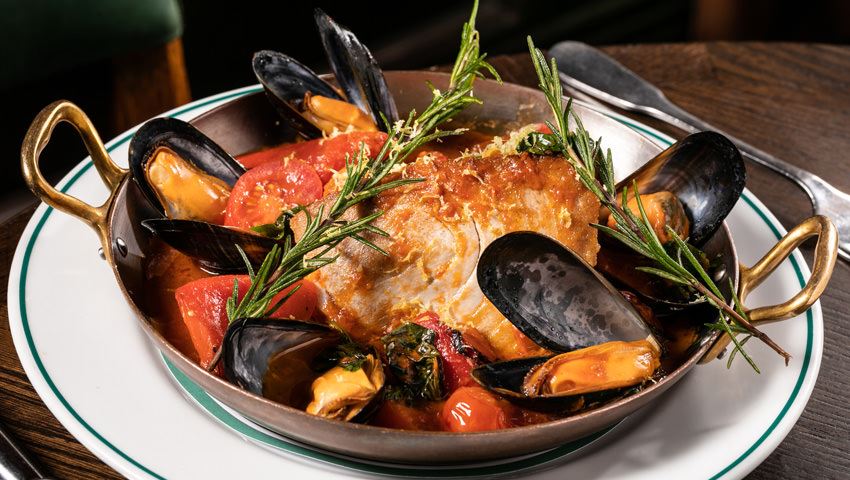 For mains, we both went with the Steak, Egg & Chips (£3.95 supplement). The rump steak was full of flavour and cooked to our liking. As someone who often opts for fillet, I was pleasantly surprised, I didn't leave a single piece or cut. The portion size left us fully satisfied and hand on heart, it was a fantastic take on a classic.
Dessert
We weren't rushed to dessert or to any of our courses. One of us remained on the set menu with the White Chocolate Mousse, which was again, delicious with its hint of white chocolate and raspberries.
On the recommendation of our server, we also tried the Chocolate Bomb (£8.95). I won't spoil it for you. Order it, it's an experience of its own and we are so glad that we did.
Overall, we had an absolutely fantastic time dining out at The Ivy Cardiff. Even though it only recently opened in November, it is already a hit with locals and visitors to the city. If you are looking to visit, don't delay booking, as chosen dates and times are quickly filling up fast.