Garena recently announced a new crossover event for Free Fire with the anime Attack on Titan. As reported by Source, dataminer morfeo_ofc has uncovered some of the costumes from the upcoming event.
During the event, players will be able to wear costumes based on various characters from Attack on Titan. According to the leak, the event will feature costumes for Levi Ackerman, Mikasa Ackerman, the Attack Titan, and the Armored Titan. The male Survey Corps costume will be based on Levi and the female Survey Corps costume will be based on Mikasa.
Players can also expect gun skins, in-game items, and collectibles inspired by Attack on Titan. The Free Fire x Attack on Titan crossover event live in March.
Free Fire x Attack on Titan Leaked Character Costumes
Levi Ackerman
The bundle for the male Survey Corps costume is based on Levi Ackerman, one of the popular characters in the anime franchise. Complete with his Vertical Maneuvering Equipment and display animations.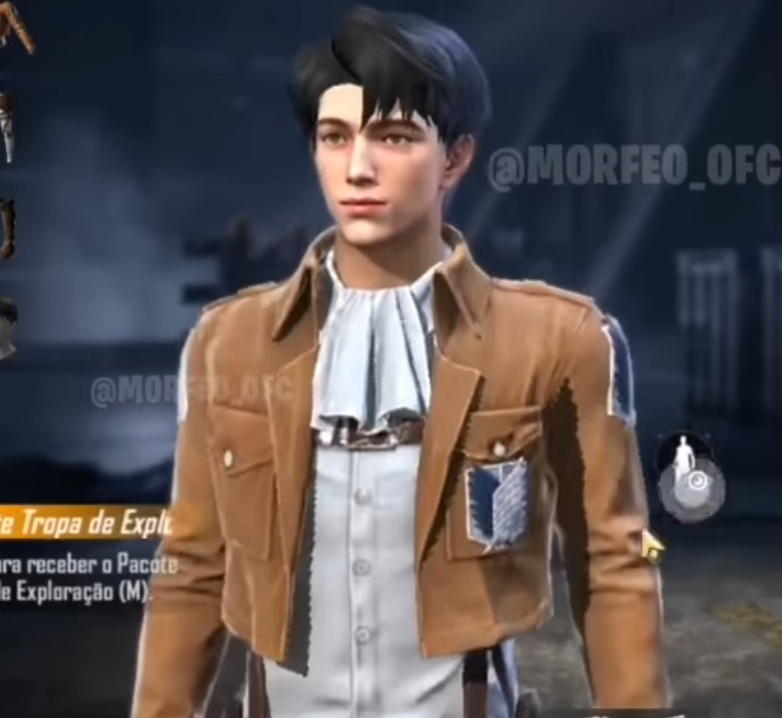 Mikasa Ackerman
The female version of the Survey Corps Bundle is based on Mikasa Ackerman, another popular character in the anime franchise. The bundle is complete with her signature maroon scarf, hairstyle, uniform, and display animations. 
The Attack Titan
Not only do players get to dress up as their favorite Survey Corps members in the Free Fire x Attack on Titan event, but they can also take the form of the Attack Titan. Although the Titan is relatively small compared to the anime version, it sure makes up for its incredible attention to detail to look like the actual Attack Titan from the anime series. 
The Armored Titan
Another variant of the Titan in the anime can also be obtained in Free Fire. The Armored Titan is one of the most intimidating Titans in the anime series. You can also get to play as this stunning character.
It is important to note that these costumes are still in the advanced server for Free Fire. Changes might be made when the Free Fire x Attack on Titan collaboration event gets released in the regular severs this.
Gamer friends can already imagine how exciting war is with a Titan-style feel! Get ready as there is a lot of interesting content to present to you.
Free Fire x Attack on Titan Collaboration
Developer Free fire We are always striving to provide our fans with a different and enjoyable gaming experience.I don't think this is the first time Galena has released popular content in the game.
By the way, this time it's the turn of popular anime Attack on Titan Accepted the collaboration. Attack on Titan movie Includes adrenaline-inspiring stories, tragic as well as fun! He has a lot of fans and you may be one of them.
Free Fire Garena producer Harold Teo personally wants a theme Free Fire x Attack on Titan Players can like it. The developers are very excited when it comes to putting this anime into the game.The following is a costume leak item Exclusive to be released on Free Fire x Attack on Titan.
1. Survey Corps AOT Free Fire Costume
When collaboration leaks FF x AOTFriends, gamers need to imagine anime military uniforms right away. A friend gamer who will make your dreams come true! Later, you can add it to your game's cupboard content with a cool Survey Corp Division jersey. Can play a character Free fire In the iconic military uniform style Attack on Titan, identification very very!
2. Titan AOT Free Fire Costume
In addition to the survey co-op uniforms, Galena Indonesia will also release Titan costumes! If you don't like the elegant and cool look, you can use a cannibal monster costume instead. This terrifying Titan costume is also not a very interesting choice!
3. Free Fire x Attack on Titan Weapons Free
Gamer Miss queen minimum budget The developers are thinking about you too, so don't be sad. There is a leak in the context of collaboration Free Fire x Attack on Titan, Galena shares skin Free weapons for players. You can get lucky without spending money or Diamond FF. It's great! So wait quest Special from current developers event It's a release, yes!
4. Free fire x attack on Attack on Titan's plane skin
Witness information skin aircraft Free fire By theme Attack on Titan What I found in cyberspace was actually a leak from a Vietnam server. On the wings of the plane, you can see the faces of two famous characters in the series, Mikasa and Ellen. It is not yet clear if this aircraft will be launched in Indonesia. But the possibilities are still great, we wait!
5. Free Fire x Attack on Titan Mode
Still from the leak Free fire Vietnam, developers are rumored to present a mode Gameplay Free Fire x Attack on Titan.. Well, so far, the developers haven't leaked what the game mode looks like, friend gamers. But if Titan mode really exists, it would be really fun!
Looks like a collaboration between Free Fire x Attack on Titan Friend gamers, this will be really cool! The more you know what's coming, the more you can't wait to play it.
But, as previously notified, we have to put up with it until March. While waiting, friend gamer fans AOT Can be saved to fit the Diamond FF event-Purchase the costume directly at the time of the release item.. Get ready and wait for the developer to announce!