Skipping is a simple full body workout, which can strengthen your legs, tone muscles, boost stamina and improve coordination. It also burns calories – and it burns them fast.
With more people than ever buying equipment to use at home, the skipping rope market is booming. But there are some things to consider when buying one for the first time.
The first is material. Coated wires are now the top choice for many skippers, especially if you're all about speed. You should also think about length. Look out for adjustable ropes to give you options.
Once you've made your choice, you'll need to get the perfect fit by standing on the middle of the rope with one foot and then pulling the handles straight up so that the rope is tight. The top of the handles should be somewhere between your armpit and nipple.
How we tested
To make life easier, we've tested ropes for the last couple of months from across the market – from cross-training sessions in the gym to quick skips at home. From those that simply do what they say on the tin to smart skipping ropes that guide you through sessions and tell you the number of calories burned, we've rounded up the best below.
So whether you're trying to get fit or just want to fit in with the kids, we guarantee you'll find the perfect product.
The best skipping ropes for 2021 are:
Best overall – Beast Gear beast rope pro: £14.97
Best value rope – Sundried skipping rope: £9
Best weighted skipping rope – Decathlon weighted skipping rope: £9.99
Best for innovation – Beachbody bod rope: £29.95
Best smart rope – Tangram Factory smart rope pure: £59.95
Beast Gear beast rope pro
Best: Overall
Rating: 10/10
We've been testing Beast Gear's ropes for a couple of years now and we've been impressed time and time again by their quality. This time around, we turned again to the brand's next generation beast rope pro – and found it still performs head and shoulders above the rest.
The rope is fast, durable and pretty nice to look at. It includes a double bearing system, which enables a smooth rotation, and a locking mechanism to prevent the cable from slipping, even during the fastest workouts. The steel coated cable is ultra-strong and can withstand users putting it through its paces in HIIT sessions, interval training and longer aerobic workouts. We loved the smaller, lighter handles, which are hollow, and found it aided our sessions (although some beginners might prefer something a little chunkier). Plus, the rope is easy to adjust and you get a nylon bag for storage.
Sundried skipping rope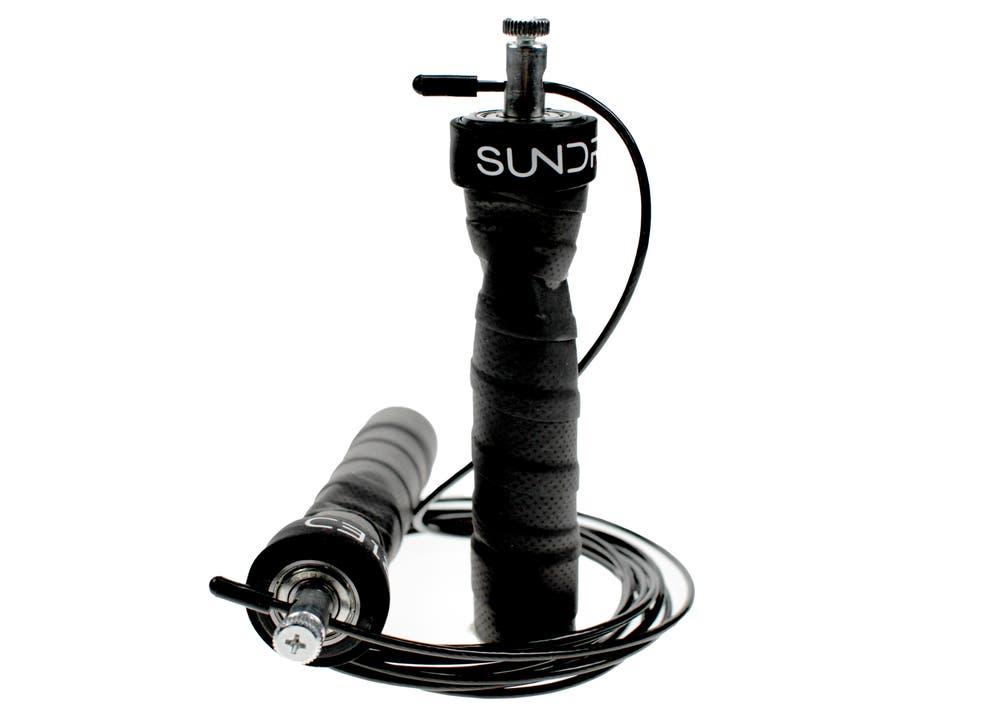 Best: Value rope
Rating: 9/10
We use a few products from Sundried and are always impressed with the brand. This skipping rope is no different. If you're a seasoned gym goer who is looking to up the sweat in your sessions, then this rope offers a quality spin. The lightweight, super slim cable slices through the air and is helped along by precision ball bearings in the handles, enabling a seamless spin. Although the handles are quite long, we found the thumb grooves stopped our hands from slipping and boosted our confidence during workouts.
This jump rope isn't recommended for prolonged use on concrete, but as long as you take good care of it then it is durable. Plus, it looks super sleek and the price includes a spare cable and a carry case – perfect if you want to shove it in the bottom of your gym bag. And while Sundried has always been affordable, its new price of £9 is an absolute steal.
Decathlon weighted skipping rope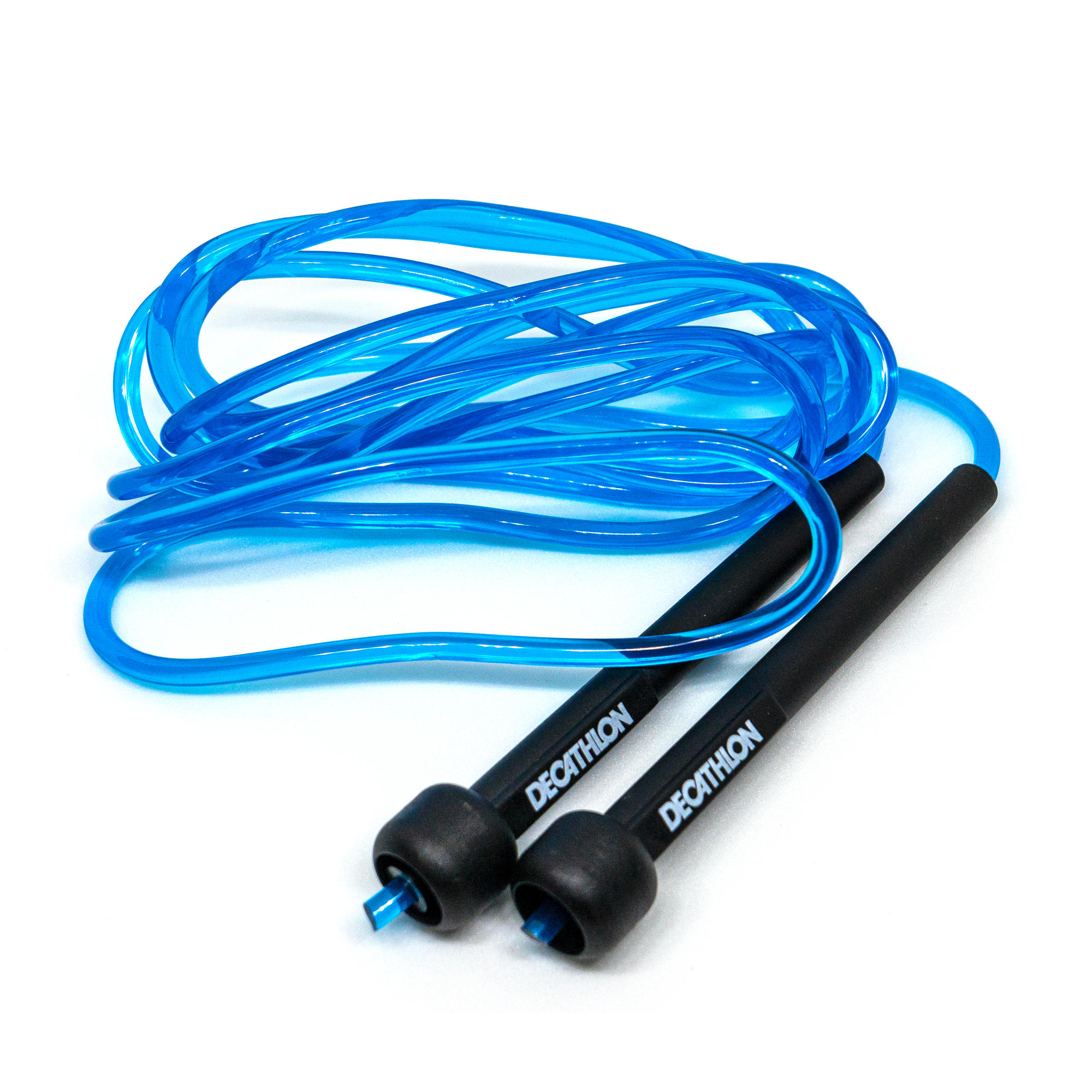 Best: Weighted skipping rope
Rating: 7/10
A weighted skipping rope is good for two reasons. Firstly, it can help to slow down the rotation making it easier for you to get to grips with skipping when you're first starting out. Secondly, it can help to increase strength – especially in your arms, shoulders, back and core.
If you're unsure or want to see if it works for you, then Decathlon's rope is a great option. It's sold with two 80g removable weights, so you can adjust your workout depending on how you feel. Even with the weights, the PVC rope turns smoothly with foam handles that are grippy (if not a bit sweaty). We found this wasn't as easy to adjust as some of the other models we tested – and you'll need to take good care of it to ensure it lasts. But for £9.99, it's a great option if you want to see what weighted ropes are all about.
Beachbody bod rope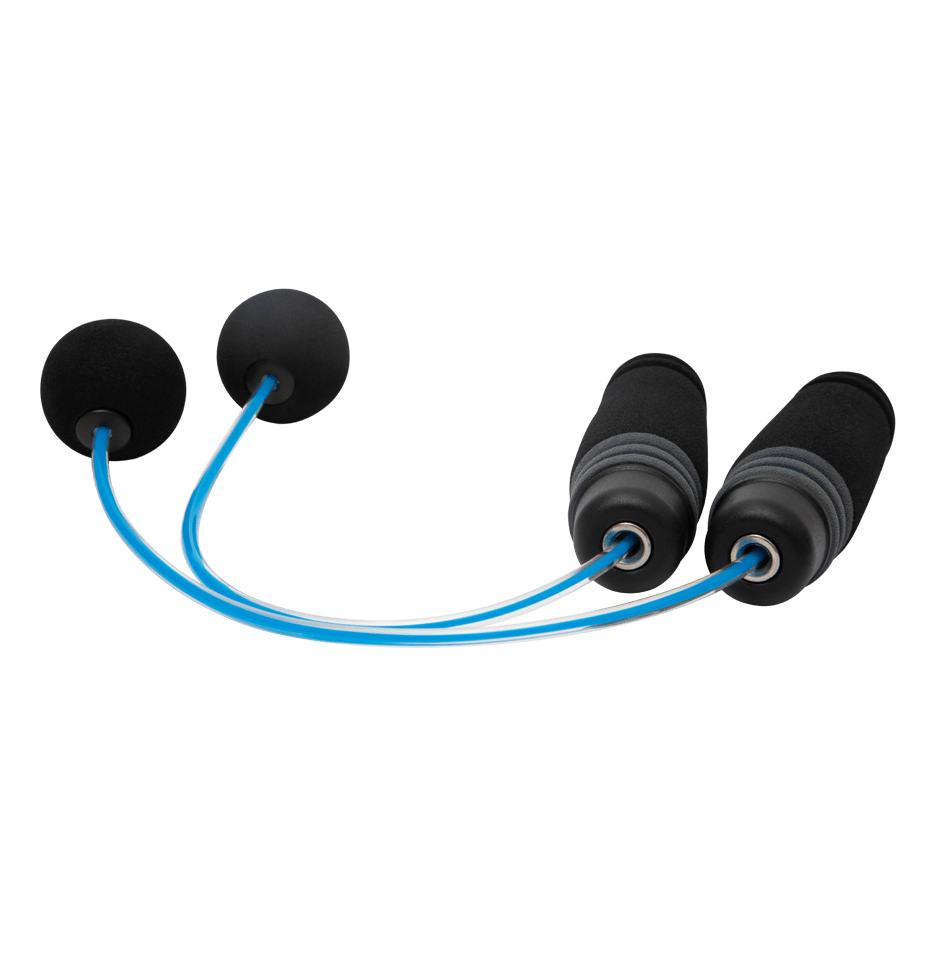 Best: For innovation
Rating: 9/10
"Use the BOD Rope ONLY with firm grip and control. Never swing or throw the BOD Rope." So reads the accompanying pamphlet for the cordless indoor jump rope from fitness experts Beachbody.
We've got to admit we had fleeting visions of accidentally smashing our TV – but, in reality, the rope was super easy to use and revolutionised our workouts. It turns out that not having a rope helped us concentrate on our speed and form, leading to big improvements in our skipping stamina even over a couple of months. It also removed any concerns we had about falling over or tripping, so we were able to test our limits time and time again.
The handles are super comfortable, especially in comparison to some of the other minimalist products on the market. Plus, it's easy to store and you (obviously) don't need to worry about it tangling. If you're looking to dial up the intensity of your workouts in a measured way, then look no further.
Tangram Factory smart rope pure
Best: Smart rope
Rating: 9/10
Everything about Tangram's smart rope pure is extra. Unlike most other ropes, it has two sets of ball bearings in each handle. The complementary app not only includes basic counts, such as jumps and calories burned but also allows users to challenge their friends, view leaderboards and select fitness sessions such as interval training, which are based on skill level and fitness goals. Plus, there's no need to worry about the rope running out of battery mid-swing – it will last for 45 hours of active training.
The result is a modern rope, which satisfies even the most serious of skippers. It is light at only 250g and fast, with a smooth, natural motion. It genuinely only takes around a minute to set up with an iPhone, iPad or Apple watch and the user journey on the app is simple. It is also adjustable in line with height and jump stance, and the handles are nicely shaped. We know this rope is a bit pricier – but we think it's worth saving the pennies for.